Hey, hey, hey...Happy Friday! Is this the start of a long weekend for any of you lucky ducks? I'm not off Monday for President's Day, but the kids are...which means sleepovers for them...and date night for us!! Woot, Woot! My brain is all over the place, per usual, so here's a random Friday Five of happenings around here.
1)
A $200 gift card I received for Christmas has been burning a hole in my pocket, but I'm hoarding it like a Lohan does hair extensions. I keep waiting for the perfect thing to come along. Something I just have to have, but would never actually buy for myself. Right now, the
Madewell Transport Tote
is top of my list. Did I mention it can be monogrammed,
mom
? This looks like one of those bags that just looks better with age. Unlike the ones under my eyes.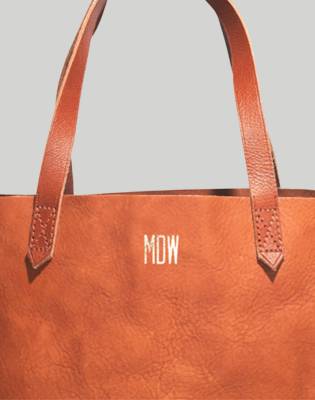 2)
I did a little closet purging, and finally let go of some jeans that I had no business trying to wear. I have a few pairs of
these skinnies
, which I love, but I'm not sure are completely flattering on my shape. I'm ready to go back to the days of slimming dark denim, with a hips-forgiving bootcut. The
Hudson Signature Bootcut Jeans
are on my radar, but I'm not sure if the flap pocket is a good or bad thing, cause this baby got back.Cute, aren't they?!
3)
Are you watching The Bachelor this season? I usually wait until only a few girls are left, but jumped on board early this season since Sean is a Dallas boy. How cute was his sister, Shay, on this week's episode? Did you know she has a blog,
Mix and Match Family
, and totally dishes all the behind-the-scenes stuff on her brother?! Oh yeah, totally fun to read.
And to make the world even smaller, my friend Sheaffer at
Pinterest Told Me To
is Shay's BFF. Sheaffer is a hoot-and-a-half, and writes the funniest Bachelor recaps. Even if you don't watch the show, you'll be laughing at all the crazy she dishes on!
4)
Don't forget the
Charles Emerson Designs
discount code expires tomorrow, as does the giveaway for this fabulous J.Crew-esque bracelet! The
Zabby scarf
and
Nicole bracelet
are on their way to me. Happy Valentines, Cassie. Why thank you, Cassie!
5) And finally, a huge Texas Welcome to my newest sponsors, A Girl Named Gay and Smart, Blonde & Crafty; and welcome back to Quality Bath. I know ads are a touchy subject for readers and bloggers, but they are essential to my Project Fund! And more funds mean more projects...win-win, right?!

Go check them out this weekend!
So what randomness is running around your brain this Friday? I'd love to know your favorite brand and fit of jeans. I have a pair from
Old Navy
that are perfection, but of course they aren't available any longer. Are you over the muffin top, too? What would you buy with an extra $200? Happy weekend, lovebugs!