Happy Friday from Hot-lanta! I'm hanging at the Haven Conference with so many fun and amazing blogger friends, hopefully soaking up some of their creative genius. What do you have planned for this glorious July weekend? Here's the randomness that is my Friday Five.
1)
I've slowly ventured into the world of maxi dresses, but quickly realized I require petite sizing unless I want it to drag the ground like Princess Kate's wedding gown. #shortgirlproblems
This cute chevron maxi
comes in regular and petite sizes, and has the right mix of sass, comfort and sexy. It would look great with the
fringe Kendra Scott look-a-like pendant
that's only $18! And don't even get me started on
the striped tote
. #swoon
2)
Hello
cute cover-up
for $26.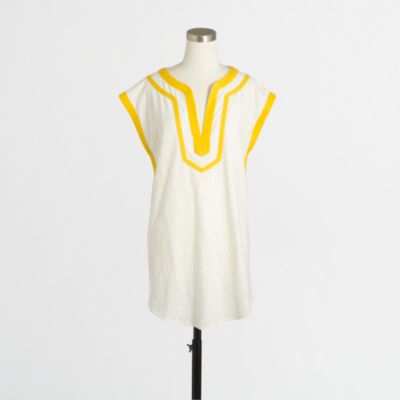 3)
I've been on a serious roasted okra kick lately, but love the idea of grilling it! I would guess you just brush them with olive oil first? Have you tried it?
4)
Thank you for all the sweet comments on
our Refreshed Patio
! For more outdoor inspiration, check out all the Home Depot Style Challenge participants
here
, including Grace's Porch with amazing
DIY Beaded Chandelier
!
5)
Being in large crowds of women can be intimidating, so I've been reminding myself of this quote for the past few days.
What are your thoughts on maxi dresses? Are you a fan of okra, or is it a Southern thing? Happy weekend, lovebugs!